Last updated on May 17th 2021
If you are planning on visiting our hospice or any of our patients within the community, please be aware of the latest government advice regarding the recent Coronavirus outbreak.
Please remember to wash your hands frequently as this can help to prevent and slow the spread of coronavirus.
You should wash your hands for 20 seconds, using soap and water or hand sanitiser.
This information details on how ellenor is supporting compassionate visiting arrangements for patients in our care on the Inpatient Ward during the current Coronavirus pandemic.
The aim of this information is to minimise the risk of infection whilst also allowing close family members to maintain face-to-face contact with their loved ones, and to say goodbye if their loved ones are at the end of their lives.
This is also relevant to visiting faith leaders including chaplains.
The measures assert the rights of the patients being cared for at ellenor on the Inpatient Ward to see their loved ones and/or to receive religious support. They also aim to reduce the adverse impact on close family or friends of not visiting their loved one.
Visiting The Hospice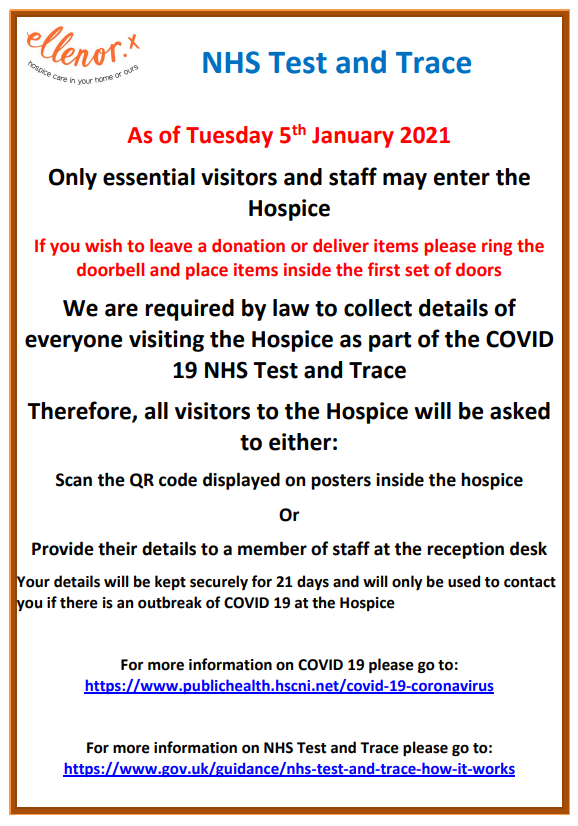 Visitors MUST bring with them and wear a face covering on entering the hospice.
All visits to the Hospice must be pre-arranged following a telephone call to the Inpatient Ward, and these will be coordinated on a case-by-case basis, following a discussion with the Ward Manager.
Anybody who is showing symptoms of coronavirus (a new continuous cough or a high temperature) must not visit, even if these symptoms are mild or intermittent, due to the risk they pose to others.
The patient will be asked, where possible, if they would like to receive a visit from a loved one or faith leader prior to a requested visit.
Visiting is currently restricted to those patient who are End Of Life, the Ward Manager and staff will discuss with patients and their nominated Next of Kin visiting arrangement whilst here.
All visitors MUST wear PPE before entering the Inpatient Ward area and this will be supervised by a member of staff from the Ward.
Visitors must be informed of what to expect when they see their loved one, along with practical advice related to wearing personal protective equipment (PPE), handwashing and the risks associated with the removal of gloves to hold a patient's hand.
Arrangements will be subject to change pending Government Guidance, and relevant requirements for PPE and the need to maintain social distancing between visitors, staff and other patients.
Additional measures
Visitors on arrival at the hospice must wear a face covering and will be asked a list of questions related to their current health. If any of these questions raise concerns they may not be allowed to enter.
Following this a member of the nursing team will take both visitors temperatures, review the answers to the questions asked before entering the ward. If a visitor has a raised temperature of 37.8c or higher they will not be allowed in the Inpatient Ward.
All visitors must wear PPE as requested, and provided by the nursing staff, this now also includes a visor as well as mask, apron and gloves.
These additional measures are to ensure maximum safety for visitors, patients and staff, whilst ensuring patients can continue to see their family at this time.
We will keep this under regular review.
Family or friends who wish to visit loved ones at the end of life, or faith leaders (including chaplains) who are visiting patients, should be able to do so but must be aware the main potential risk is to themselves. The following precautions should be taken:
Visitors should avoid the use of public transport – especially after the visit.
Personal belongings: visitors should minimise the number of personal belongings they bring with them, eg bags, handbags, electronic devices to reduce the risk of contamination.
Visitors driven to the Hospice by a person close to them may welcome the support that person can offer once the visit has finished. Unfortunately we do not have an area inside the hospice for them to wait.
As an organisation, ellenor is keen to support patients to stay in touch by enhancing family liaison arrangements to provide updates to the next of kin, and this will be provided by a daily telephone call from a clinician if the next of kin is unable to visit.
On Arrival At The Hospice
All staff and visitors must follow the process below:
Visitors must report to the Host Desk where the Host will notify the Inpatient Ward of their arrival and ensure they wash their hands prior to entering the Ward.
Staff will meet visitors at the Ward entrance door and advise them of their increased risk of infection from entering the Ward.
Visitors will remove their outer clothing eg coat or jacket, roll up their sleeves and clean their hands before putting on PPE, this will include changing their face covering to a surgical mask.
Staff will direct visitors as to the correct wearing, removal and disposal of PPE.
Visitors must not wander around the Ward and should remain at the patient's bedside for the duration of their visit. Staff will ensure that visitors know how to use the call bell if they need anything or signal when they want to leave.
Visitors must remain at least 2 metres away from others as they enter and leave the Ward and building, moving as quickly as possible via the most direct route when entering and exiting the Ward and building, and avoid touching any surfaces.
Visitors should avoid touching their eyes, nose and mouth with unwashed hands and cover any coughs or sneezes with a tissue, then throw the tissue in a bin.
Visiting times are set by the Ward Manager and will only be for a maximum of one hour. If a patient is at the end of their life this will be assessed on a case-by-case basis.
Visiting times are set with staggered arrival and leaving times to ensure a minimal number of visitors on the Ward at any one time.
Staff will give tips to visitors including going to the toilet and having a small drink prior to donning PPE which help to avoid the need to don and doff more than once during the visit.
Once PPE is removed, visitors must replace the surgical mask with their own face covering, wash their hands again with soap and water for at least 20 seconds before they leave the Ward and then again as soon as they get home.
Staff will reassure the visitor that self-isolation is not required following the visit as they have been protected from the risk of transmission by using PPE and performing hand -hygiene (as per PHE Guidance 13th May 2020).
Visitors will be advised by staff to follow the Government's Guidance to stay at home/self-isolate if they become unwell with signs of COVID 19, and to contact NHS 111.
Connection To A Loved One
ellenor is very keen to encourage 'virtual visits' for patients, and is also able to accommodate alternatives to get messages across:
Face Time, Zoom or Skype calls are encouraged if families wish to arrange this with staff and ellenor has internet connected kit available to facilitate this type of contact.
A phone is available for patients to receive a call from their friends and families.
Messages/photographs can be emailed in and printed for delivery to patients.
Staff are able to take delivery of a phone for a patient's use from their families/friends, and there are multi-chargers on the Ward.
ellenor can provide tokens that create physical connection between the dying person and their relatives. Examples include "knitted hearts" where one is given to the patient and the other to their close relatives. Due to generous donations we can provide these hearts.
Cards with personal messages can be written and staff will deliver these to a loved one.
Flowers are acceptable - deliveries should be made to reception and staff will ensure your gift gets to your relative/friend.
The difference between a Face Covering and a Face Mask
Surgical Face Masks are for use in the inpatient ward and other patient facing interactions including home visits/clinics/counselling. They are not a replacement for social distancing and regular handwashing which remain the most important actions. Surgical face masks are designed to be normally worn in medical settings to limit the spread of infections. Wearing them should be very limited outside of healthcare activities because they are not generally considered to be PPE in non-healthcare situations.
Unlike face coverings, they:
Are manufactured to a recognised standard.
Are resistant to droplets of fluids and splashes.
Face coverings are not a replacement for social distancing and regular handwashing which remain the most important actions. The UK government is advising use of face coverings in area where social distancing may not be possible. The evidence suggests that wearing a face covering does not protect you, but it may protect others if you are infected and have not developed symptoms.
Face coverings are not classed as PPE:
They are not manufactured to a recognised standard and not CE marked.
They do not provide a proven level of protection for work risks such as dust and spray.
Living Well and Wellbeing Services
Find out how to access our services during the pandemic.
Until further notice, all our drop-in groups and classes (including counselling and complementary therapies) have been moved to Zoom and telephone. We are making weekly calls to all of our patients, more frequently where necessary. However, if you feel you would like to contact a member of the Living Well or Wellbeing Teams, please contact us on 01474 320007 and we will ensure that you are added to our list of regular contacts.
Physiotherapy and Occupational Therapy
The Physiotherapy & Occupational Therapy team will continue to provide support to the patients on our Inpatient Ward. We have decided to cancel our Seated Exercise Group, Breathlessness Management Group and Fatigue Management Group based at the hospice. Physiotherapy and Occupational Therapy visits to patients in their own homes will not currently be taking place.
If you should require advise on breathlessness, fatigue, mobility or exercises during this time please contact us on 01474 320007 and ask to speak to either Andy, Physiotherapist or Clare, Occupational Therapist, who will call you back to help you in whatever way we can.
Bereavement Cuppas, Carers Cuppas and Walk and Talk Group
We continue to offer bereavement support to anybody who needs it. Unfortunately, we are not yet able to meet on a face to face basis. However, we will support you via telephone or video-call (ie Zoom or WhatsApp) in order to ensure you are not going through this alone. This can be in the form of one-to-one counselling or regular calls from our Family Support Team. As soon as face to face bereavement care resumes, we will let you know where and when you can access us.
Care Home Support Team
Most care homes have closed their doors to visitors. We are still advising on palliative care by phone and contacting the care homes as usual. We will only be making essential visits in order to protect the elderly and vulnerable.
Our Hospice at Home Community Team
In order to keep patients and their families safe, our Hospice at Home Community Team will now offer support primarily via phone - although home visits may still be available following telephone assessment, with additional procedures in place to limit the risk of infection for themselves and for their patients.
We are increasing our phone contact to patients and families we currently support and staying in close contact with other professionals to ensure best supportive care.
Our Cafe and Public seating area
We have made the decision to close our cafe to the public but we will continue to provide hot meals for our patients on the ward, visiting relatives and friends of patient's staff and volunteers working at the hospice. We will be operating a reduced hot menu option but will have sandwiches and cold items available. We thank you for your understanding. We will keep you informed of the situation.
Children's Service
We are working closely with Public Health England/NHS England guidelines to maintain our services for those children and young people who are most vulnerable or at risk.
As you are aware, the guidelines from the Government and Public Health England are changing rapidly so I will be keeping you informed of our services throughout this time by posting information on our website. This will be updated weekly, or sooner if required.
We want to keep in touch with you and will continue to offer our support you all during this time. We are maintaining business as usual as far as we can but, as you will understand, we have had to make some changes to how we deliver our care. This is to protect your family as well our staff and the wider community.
We are exploring ways to resume some aspects of our service that were suspended but will be doing this carefully and safely, in line with guidance from our local CCG's.
Our working hours are currently 9-5pm Monday- Friday.
Face to face visits will be undertaken only for essential or urgent needs. Our priorities are to provide acute oncology treatment, urgent assessments and end of life care for children. This is in accordance with the current national directives for Community paediatric services.
Video calls are available and we are using Zoom to provide virtual visits. This is a free app which can be used on any device and this will allow you to communicate more directly with a member of our team.
We are working very closely with other Children's community teams, Children's Hospices, local hospitals and Tertiary centres across our whole area to continue to provide care.
In order to protect you and your families we have cancelled all group activities at the Hospice with immediate effect. This includes our Friday Fun Club, our Easter Party and Mother's Day pampering event. Our face to face Music and play therapy sessions held at the hospice are also postponed until further notice. However, our therapist is available to provide therapeutic support for families via telephone or video call.
Supporters
Your support is vital in helping us provide care and support to patients and their families and during this unprecedented time, your support is even more important.
We have had to postpone some of our fundraising events which raise funds to allow us to continue supporting our community. However, we are looking at ideas for virtual events so that we can still raise the funds we need. If you have any suggestions, please do get in touch with our Fundraising Team.
The following ellenor run events have been postponed:
Ellie's Mini Marathon – New date: 11/10/2020
Sponsored Walkathon – New date: 21/03/2021
Quiz Nights – until further notice (keep an eye out for our virtual quiz nights)
Some third-party events have also affected, including the Virgin Money London Marathon and Brighton Marathon. Please visit our Events page for information on each of our events.
If you require any advice about your own fundraising activity, or events you are participating in, please contact our Fundraising Team via email supportercare@ellenor.org or call 01322 626509 for further information and we will be pleased to offer support as best we can.
Over the coming days and weeks, our fundraising teams will be reaching out to let you know what we are doing and the changes we are making to our fundraising plans for the coming year.
Thank you for your continued and much valued support, you can continue supporting us by making a donation. We still need your valued support.
Volunteers
We are incredibly grateful to all our volunteers whose help and support ellenor is invaluable. In line with staff notifications we are signposting our volunteers to government advice and our Human Resources department. Our volunteers are critical in order to help keep our retail shops open, services running and keep providing beverages and meals for our patients and their families.
We want to thank all our volunteers for their commitment and continued support during these very difficult times. They really are extraordinary.
Shops
For the latest information about our shops, please click here.
Recruitment and Training and Education
Any recruitment we are holding at the moment will be changed from Face to Face to Telephone Interviews. Our current training learning and education programmes have been postponed until further notice.
Staff.
Our valued staff are absolutely critical to the operation of our services and we are taking all the necessary measures to ensure that we are able to deliver this safely and with minimal disruption throughout this difficult period. We would like to thank our staff for their tireless commitment to ellenor and for doing all they can to minimise infection and keep our services going.
THANK YOU SO MUCH