Sponsored Walkathon 2021
Join ellenor's marathon mission to create a better future for hospice care

Sponsored Walkathon 2021
Join ellenor's marathon mission to create a better future for hospice care
Details
Date: 05/09/2021 - 05/09/2021
Location: London
Categories: Challenge Events, Walks, Trek

Costs
Walker: £30.00

Register Here!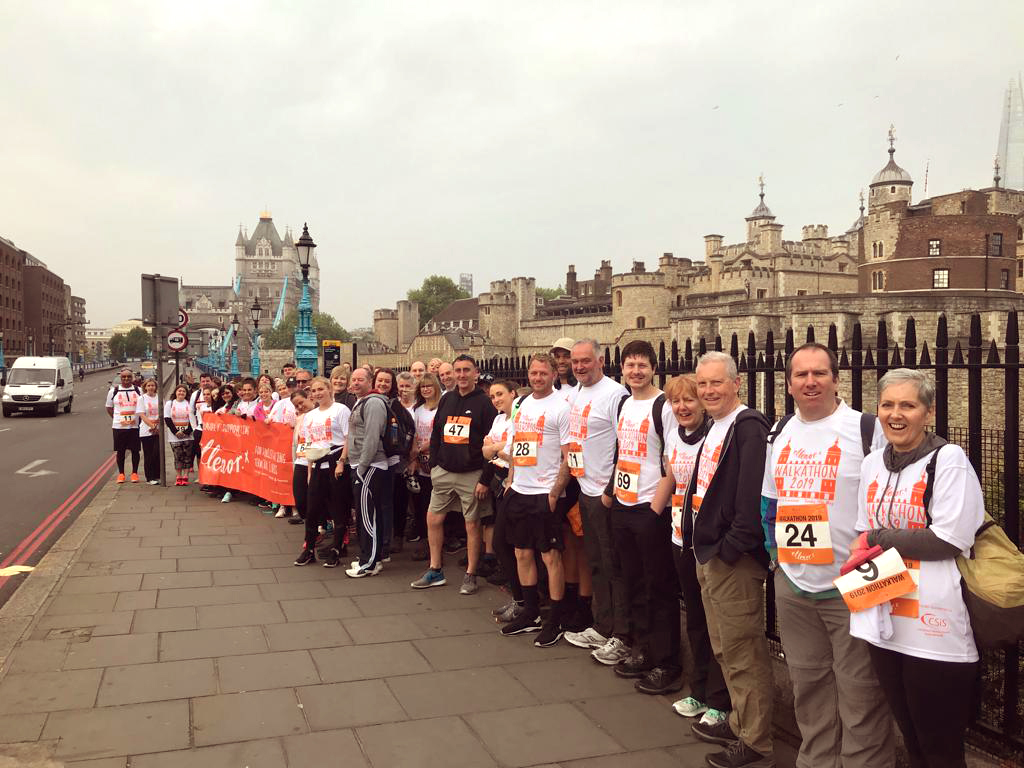 Information
When: Sunday 5 September 2021
Where: Tower of London to ellenor, Coldharbour Road.
Timing: Coach leaves ellenor hospice at 7 am. The walk starts at 8 am promptly from the Tower of London
Registration Fee: £30.00 including your coach place. 
​Sponsorship: Your registration fee covers your participation in this event but it is your donations and sponsorship which go directly to our patients - so please help ellenor deliver the care that is needed by collecting sponsorship or by making an additional donation.
Join ellenor at our hugely popular Sponsored Walkathon, a challenging 26.2-mile walk in support of families facing terminal illness. Starting at the picturesque Tower of London, walkers will cross the iconic Tower Bridge and head towards Greenwich before then making their way into Kent and towards the finish at ellenor, Coldharbour Road.
This is not a challenge to be sniffed at, the route can be tough and undulating in places, so don't think it'll be a walk in the park.
Fundraising
ellenor offers the best care and support for patients, families and carers facing terminal illness, need for our services are rising and each year we need to raise £6.9 million to provide the vital care and support we do - but this would not be possible without your support. How will you help a family facing a terminal illness?
Event Details:
Upon signing up, walkers will receive a Walkathon pack, which will include the Walk Map, Walk Directions and a Fundraising Pack. All walkers will receive an ellenor branded technical t-shirt which will be available to collect ahead of the walk.
Please note: Coach transport will leave from ellenor, Coldharbour Road, Gravesend at 7 am and arrive at the Tower of London for 8 am. Your coach place is included in your entry fee.
Small Print
By signing up to this event you confirm that you understand this event is not a race and that walking along public roadways is potentially hazardous.
You acknowledge that all walkers enter this event at their own risk and that ellenor is not liable for any injury or loss that may occur as a result of participation. Walkers should seek medical advice if in any doubt of their physical fitness and we recommend training for this event. 
The route is challenging and incorporates many hills, therefore we would strongly recommend training for this event.
Participants must be aged 18 years and over on the day of the event.
This event is regrettably not suitable for wheelchair users.
If you have any accessibility issues, please contact the Events Team prior to signing up to the event.
All walkers must complete the course within 9 hours (by 5 pm). 
The registration fee is non-refundable and non-transferable, so please ensure you check your diary before signing up.
By registering for this event, you confirm that you have read and agree to ellenor's Terms and Conditions
By registering for this event, I understand that I take part in this event at my own risk and that

 

ellenor

cannot be held responsible for any loss, damage or injury however caused as a result of this event.

Need to speak to the ellenor Events team?
For more information please contact our Supporter Care Team on 01322 626 506 or at events@ellenor.org 
Huge thanks to our Sponsors!
We're so grateful for the ongoing support from Civil Service Insurance Society and their sponsorship of our event.