Details
Date: 02/04/2023 - 02/04/2023
Location: London
Category: Running
Registration: £30
Sponsorship: £350

Costs
Registration: £30.00

SOLD OUT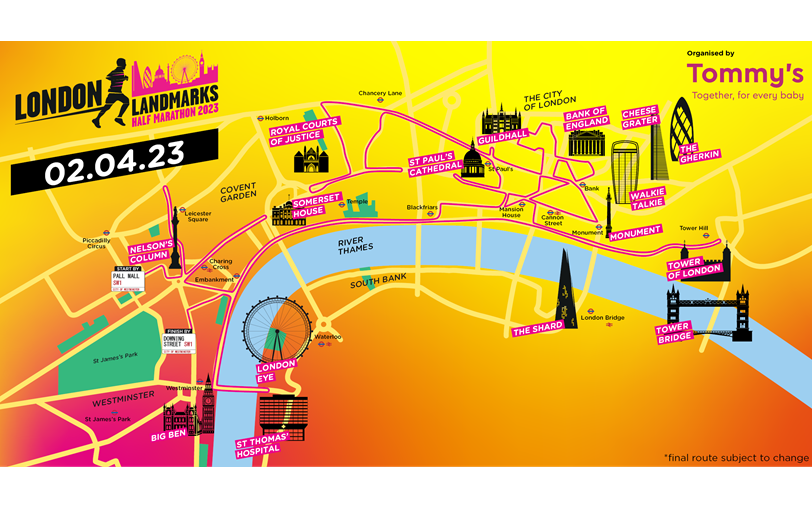 SOLD OUT
We have sold out of places for the London Landmarks Half Marathon.  To register your interest for a place next year or for a place in the Royal Parks Half Marathon email events@ellenor.org and we'll get in touch.
Join us for London Landmarks Half Marathon 2023!
Information
When: Sunday 2 April 2023
Where: Pall Mall, London
Registration: £30
Minimum Sponsorship: £350 (excluding Gift Aid)
Join over 12,000 runners at the start on Pall Mall and race past London's most iconic landmarks including Big Ben, St Paul's Cathedral, Nelson's Column, the Tower of London and the London Eye before finishing by Downing Street.
More than just your standard half marathon - the London Landmarks will celebrate the capital's wonderful culture and heritage with runners and spectators discovering some of London's best kept secrets. Plus, your very own team ellenor cheer squad will be cheering you round the course!
So lace up your trainers and join the team as we sprint towards a better future for hospice care. 
Securing a charity place with ellenor.....
This incredibly popular event sold out in record time last year so register today to secure your place.
To secure a guaranteed charity place with ellenor, you need to pay a £30 non-refundable registration fee and pledge to raise a minimum of £350 (excluding Gift Aid) in sponsorship. Don't worry, we will be on hand with plenty of fundraising resources and advice to make sure you reach your goal!
Our support for you

We pride ourselves on giving our runners all the support they need; after all you'll be raising important funds to ensure we can continue to offer our services free of charge.

You can expect to receive:
A fundraising support pack equipped with loads of fundraising tips and materials (to be requested) to support with your fundraising
A bright orange ellenor vest - to help you stand out from the crowd
A dedicated event fundraiser who will be on hand to answer your questions.
Small Print
The minimum age for this event is 17 years and older
Places are limited and will be allocated on a first-come, first-serve basis. 
As part of your registration with ellenor, you will need to complete the London Landmarks Half Marathon portal to confirm your place at the event. ellenor will provide you with these details once you have registered with ellenor. Please note the London Landmarks Half Marathon portal will close on Wednesday 15 February 2021. If you do not complete the portal by this date you will not be able to participate in the event.
All runners must complete the race in under 4 hours
The registration fee is non-transferable, so please ensure you check your diary before signing up.
By registering for this event, you confirm you have read and agree to ellenor's Event Terms and Conditions
By placing a booking, I understand that I take part in this event at my own risk and that ellenor cannot be held responsible for any loss, damage or injury however caused as a result of this event.
Need to speak to ellenor's Events team?
For more information please contact the Events Team on 01322 626 506 or email us at events@ellenor.org