I'm Pauline, proud mum to Jack, Shelley and Lucy.
Jack died of cancer in January this year. He was just 15. I want to tell you a little about him – and about the care and support ellenor gave him when he needed it most. Because of them, Jack was able to come home from hospital for two days last Christmas and – as he kept telling us – it was his "Best Christmas Ever".
Jack was only two when he was first diagnosed with cancer, a neuroblastoma (a tumour on his kidney). After tests and scans we went into Great Ormond Street Hospital in London – and then back home with the support of ellenor's nurses. For over a year he had lots of treatments and, when he was three and a half, they declared him 'cancer free'. We said farewell and thanks to ellenor. We all thought we'd got away with it.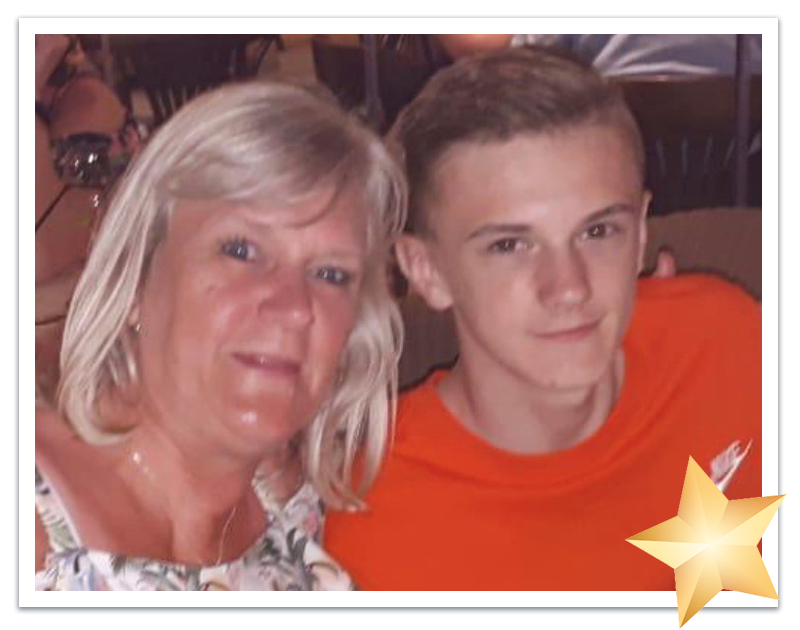 Jack grew up a healthy, happy boy. I know all parents say this about their kids, but he was such a wonderful lad. Very kind, always the first to help someone who needed it, right from when he was very small. He always stood up for what was right, never hesitated to give his opinion. He was very intelligent, loved school, loved learning (he'd study subjects the night before, so he already knew what was being taught the next day!).
As with all schoolchildren, the pandemic kept him at home for the second half of last year. Jack studied hard, never missed a lesson. But he started complaining of backache. We thought it might be the chair he sat in for school at home in front of his computer, and we tried a few things. But the pain got worse and worse – so we went to see an osteopath who thought there might be a problem. I took Jack straight to the hospital where they ran some tests.
The tests came back in August. Jack had a new, different cancer on his spine. The hospital immediately started treatment, but we soon discovered it wasn't having the affect they had hoped. By the time they started an alternative treatment the cancer had spread throughout his body. There was no cure, nothing they could do. We were told he had just months left.
Jack's determination to keep living life, even after this news, was incredible, humbling, and inspiring. He got straight back into his schoolwork – even managed to go back in person for two days in early September. But, as the cancer spread and his pain worsened, he went back into hospital; we thought he might never come out.
Now, to be honest our family has never been all that bothered about Christmas. We celebrate it, we love seeing family – but we don't go over the top, we never have. Jack felt the same, he'd never worried too much about presents and decorations. But he was a bright lad – and he knew that Christmas 2020 would be his last. He asked to come home.